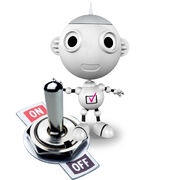 The
digital television transition
, also called the
digital switchover
or
analogue switch-off
, is the process in which analog television broadcasting is converted to and replaced by digital television. This primarily involves the conversion of analogue terrestrial television to digital terrestrial. However, it also involves analogue cable conversion to digital cable, as well as analogue to digital satellite.
In many countries, a simulcast service is operated where a broadcast is made available to viewers in both analog and digital at the same time. As digital becomes more popular, it is likely that the existing analogue services will be removed. In some cases this has already happened, where a broadcaster has offered incentives to viewers to encourage them to switch to digital. In other cases government policies have been introduced to encourage or force the switchover process, especially with regard to terrestrial broadcasts. Government intervention usually involves providing some funding for broadcasters and, in some cases monetary relief to viewers, to enable a switchover to happen by a given deadline.
Timeline:
Edit
2006: Netherlands
2007: Andorra, Finland, Sweden, Switzerland
2009: Denmark, Germany, Isle of Man, Norway, United States
2010: Belgium, Croatia, Estonia, Guernsey, Jersey, Latvia, Luxembourg, San Marino, Slovenia, Spain
2011: Austria, Canada, Cyprus, France, Israel, Malta, Monaco, Turkey
2012: Czech Republic, Gibraltar, Ireland, Italy, Japan, Lithuania, Saudi Arabia, Qatar, Oman, UAE, Jordan, Egypt, Bahrain, Iraq, Kuwait, Lebanon, Syria, Yemen, Portugal, Serbia, Slovakia, South Korea, Taiwan, United Kingdom
2013: Australia, Azerbaijan, Bulgaria, Hungary, Iceland, Kenya, Macedonia, Mauritius, Moldova, Namibia, New Zealand, Poland, South Africa, Zimbabwe
2014: India
2015: Algeria, Belarus, Brunei, Hong Kong, India, Iran, Libya, Mauritania, Mexico, Morocco, Nigeria, Philippines, Romania, Rwanda, Tunisia, Ukraine, Uruguay, Western Sahara
2017: Chile, Malaysia
2018: Brazil, China, Costa Rica, Indonesia, Russia
2019: Argentina, Bolivia, Colombia, El Salvador
2020: Panama, Peru, Singapore, Thailand, Venezuela, Vietnam
2022: Paraguay
2024: Cuba
No Intention of Switching: Laos, North Korea
Ad blocker interference detected!
Wikia is a free-to-use site that makes money from advertising. We have a modified experience for viewers using ad blockers

Wikia is not accessible if you've made further modifications. Remove the custom ad blocker rule(s) and the page will load as expected.