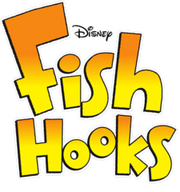 Fish Hooks is an American animated television series created by Noah Z. Jones . Twenty-one episodes were ordered for the first season. It premiered on September 24, 2010. An 11-minute preview was shown on September 3, 2010, following the Disney Channel Original Movie, Camp Rock 2: The Final Jam. It also premiered on ABC Family on January 15, 2011, at 7/6c. The stars of Fish Hooks are former That's So Raven and Cory in the House star Kyle Massey, Starstruck, Baby Daddy, and Jonas L.A.s Chelsea Kane, and Justin Roiland. Fish Hooks is also one of only six animated Disney Channel Original Series currently in production (along with Phineas and Ferb, Gravity Falls, Mickey Mouse,  Wander Over Yonder and the upcoming Star and the Forces of Evil).  A third season, as of 2013, is in production. On September 23, 2013, Tom Warburton announced that Season 3 will be the final season.
Kyle Massey - Milo
Justin Roiland - Oscar
Chelsea Kane - Beatrice "Bea" Goldfishberg
Kari Wahlgren - Shellsea
Alex Hirsch - Clamantha, Fumble
Atticus Shaffer - Albert Glass
Steven Christopher Parker - Jumbo Shrimp
Kimberly Mooley - Finberley
Rachael Dratch - Esmargot, Koi
John DiMaggio - Jocktopus
Dana Synder - Mr. Baldwin
Jennifer Coolidge - Ms. Lips
Tiny Lister - Mr. Muscles
Jerry Stiller - Principal Stickler (season 1)
Jeff Bennett - Principal Stickler (season 2)
Annie Potts - Nurse Fishington
Josh Sussman - Randall "Randy" Pincherson
Greg Cipes - Steve Jackson
Maxwell Atoms - Bo Gregory, Razor V. Doom, Hugh Edmundson
Richard Simmons - Coach Salmons
Laura Ortiz - Piranhica
Blake Clark - Chief
Tress MacNeille - Bassy
Noah Z. Jones - Mr. Goldfishberg
Edie McClurg - Mrs. Goldfishberg
Lil' Twist - Brandon Bubbler
John Caparulo - Headphone Joe
Dave Wittenburg - Pass
Roger Craig Smith - Punt
Kevin McDonald - Dr. Frog
Felicia Day - Angela Fishburger
Sabrina Bryan - Pamela Hamster
International Broadcast
Edit
Country
Channel
United States
Disney Channel, Disney XD, ABC Family
Canada
Family Channel

United Kingdom

Ireland

Disney Channel
Australia
Disney Channel, 7mate
New Zealand
Disney Channel
France
Disney Channel, M6
Germany
Disney Channel, Super RTL
Austria
ORF eins
Italy
Disney Channel, Disney XD, Rai 2
Greece
Disney Channel, ET 1
Belgium
Disney Channel, Ketnet
Netherlands
Disney Channel
Latin America

Disney Channel

Chile
Disney Channel, Canal 13
Bulgaria
Disney Channel

Czech Republic

Slovakia

Disney Channel

Denmark

Finland

Sweden

Disney Channel

India
Disney Channel
Israel
Disney Channel
Japan
Disney Channel
South Korea
Disney Channel
Middle East
Disney Channel
Poland
Disney Channel
Portugal
Disney Channel (2011-2012), SIC (2012-2014)
Romania
Disney Channel

TVR1

Russia
Disney Channel
Spain
Disney Channel
Taiwan
Disney Channel
Turkey
Disney Channel
Ad blocker interference detected!
Wikia is a free-to-use site that makes money from advertising. We have a modified experience for viewers using ad blockers

Wikia is not accessible if you've made further modifications. Remove the custom ad blocker rule(s) and the page will load as expected.