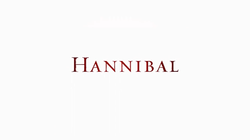 Hannibal is an American thriller television series developed by Bryan Fuller for NBC. The series is based on characters and elements appearing in the novel Red Dragon by Thomas Harris and focuses on the budding relationship between FBI special investigator Will Graham and Dr. Hannibal Lecter, a forensic psychiatrist destined to become Graham's most cunning enemy. The series received a 13 episode order for its first season and, unlike most U.S. network shows, any future seasons will also feature 13 episodes. David Slade executive produced and directed the first episode. The series premiered on NBC on April 4, 2013.
International Broadcast
Edit
Country
Network

Germany
Sat.1

Canada
Citytv, AddikTV

United Kingdom


Ireland
Sky Living

India
AXN

Asia
AXN

Poland
AXN, Ipla

Australia
Seven Network

France
Canal+

Finland
Nelonen, Nelonen Prime

Italy
Italia 1

Denmark
Kanal 5

Turkey
CNBC-e

New Zealand
TV3

Austria
Puls 4
 Japan

STAR3, STAR1
Ad blocker interference detected!
Wikia is a free-to-use site that makes money from advertising. We have a modified experience for viewers using ad blockers

Wikia is not accessible if you've made further modifications. Remove the custom ad blocker rule(s) and the page will load as expected.