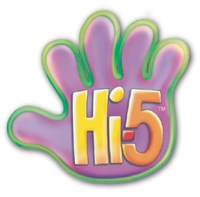 Hi-5
, an Australian children's television program, was first shown on the Nine Network in 1999 and is based on the children's music group
Hi-5
. Hi-5 is a children's pop music group much like peer children's entertainers The Wiggles. Hi-5 has been shown in approximately 80 countries.
International versions
Edit
Country/Region
Local Title
Network
Members
Original air date
Argentina
Hi-5 Fiesta
Telefe (free-to-air)
Discovery Kids (pay-to-air)
Current:
Javier Ramírez
Stefania Roitman
Milena Martines
Carolina Ayala
Adán Allende
Rodrigo Llamas
March 9, 2015 - present
Australia (original version)
Hi-5
Nine Network
Current:
Kathleen de Leon Jones
Tim Harding
Charli Robinson
Kellie Crawford
Nathan Foley

Former:
Sun Park
Casey Burgess
Lauren Brant
Tim Maddren
Fely Irvine

April 12, 1999 – December 16, 2011
Hi-5 House
Nick Jr. (pay-to-air)
Eleven (free-to-air)
Current:
Stevie Nicholson
Lauren Brant
Dayen Zheng
Mary Lascaris
Ainsley Melham
Tanika Anderson
Lachie Dearing
November 4, 2013 – present
Philippines
Hi-5 Philippines
TV5
Current:
Aira Biñas
Fred Lo
Gerard Pagunsan
Alex Reyes
Rissey Reyes
June 15, 2015 – present
United Kingdom
Hi-5 UK
Cartoonito
Current:
Jenny Jones
Chris Edgerley
Cat Sandion
Luke Roberts
Emma Nowell
Rikki Sanders
George Clarkson
Lulu Harding-Black
Clive Griffiths
Matilda Holly
Late 2015 - present
United States
Hi-5 USA

TLC
Discovery Kids

Current:
Kimee Balmilero
Jennifer Korbee
Curtis Cregan
Yasmeen Sulieman
Sydney James

Former:
Shaun Taylor-Corbett
Karla Cheatham-Mosley

February 24, 2003 - September 23, 2007
Ad blocker interference detected!
Wikia is a free-to-use site that makes money from advertising. We have a modified experience for viewers using ad blockers

Wikia is not accessible if you've made further modifications. Remove the custom ad blocker rule(s) and the page will load as expected.