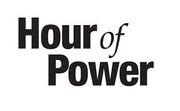 Hour of Power is a weekly American Christian television program.  It was previously hosted by Sheila Schuller Coleman, her brother, Robert A. Schuller, and her father, Robert H. Schuller, who founded the program. It is broadcast from the Crystal Cathedral in Garden Grove, California. The program is normally one hour long, but some networks broadcast an edited 30 minute program.  It features a large congregation, mostly Christian music with a choir (with an orchestra as well as the Crystal Cathedral organ as of March 2012) and guests who speak about how God and their Christian faith have changed their lives for the better.
International Broadcasts
Edit
Country
Network/s

United States

Lifetime

TBN

The Church Channel

Oxygen

We TV

Ion Television

American Forces Network

Canada

VisionTV

Citytv

Europe
CNBC Europe

Germany

Austria

Switzerland

VOX

Tele 5

Das Vierte

Netherlands
RTL 5

United Kingdom


Ireland
Sky 1

Australia

Network Ten

Australian Christian Channel

EXPO

New Zealand
Prime

Hong Kong
ATV World

Arab World
METV
Ad blocker interference detected!
Wikia is a free-to-use site that makes money from advertising. We have a modified experience for viewers using ad blockers

Wikia is not accessible if you've made further modifications. Remove the custom ad blocker rule(s) and the page will load as expected.