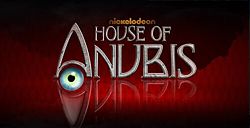 House of Anubis is a jointly Nickelodeon British, American, and Belgian mystery television series based on the Dutch-Belgian television series Het Huis Anubis aired in the Netherlands and Belgium. The series was created by Hans Bourlon and Gert Verhulst and premiered on Nickelodeon on New Year's Day 2011 in the United States and on 25 February 2011 in the United Kingdom. The series is the first Nickelodeon series to be filmed overseas, the first soap opera created by Nickelodeon and the channel's first soap opera aimed at children and teenagers (sixth in Latin America). As of 25 February, the program will be broadcast on TeenNick. The show has since concluded its third season and Nickelodeon has not announced a fourth season.
International Broadcast
Edit
Country
Channel

United States

Belgium

Netherlands

Nickelodeon

TeenNick

Canada

YTV

VRAK.TV

Costa Rica
Teletica

France
NT1

Ireland
RTE Two

Italy
Rai Gulp

United Kingdom
Sky 1

Turkey
CNBC-e

Malaysia
NTV7

Portugal
SIC

Macedonia
Sitel Televizija
Ad blocker interference detected!
Wikia is a free-to-use site that makes money from advertising. We have a modified experience for viewers using ad blockers

Wikia is not accessible if you've made further modifications. Remove the custom ad blocker rule(s) and the page will load as expected.