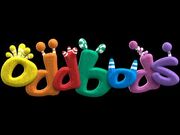 Oddbods
is a Singaporean HD-ready animated comedy sketch show created by One Animation Singapore.
It follows the quirky adventures of the Oddbods - bundled up in bright fur suits and ready for just about anything - as they bring humour and laughter to everyday situations every viewer can all relate to - such as waiting for a bus and getting caught in the rain, enduring a rough taxi journey with a crazy cab driver, getting more than the viewers bargained for at a local restaurant or going on a blind date with catastrophic results.Whatever the situation, viewers can rest assured each Oddbod will approach it in a very unusual manner. Imbued with distinct personalities, vivid imaginations and an appetite for love, laughter, destruction and drama.
Broadcast
Edit
| Country | Channel |
| --- | --- |
| Southeast Asia | Nickelodeon, Disney Channel |
| Indonesia | antv |
| Sweden | SVT Barnkanalen |
| France | Teletoon+ |
| United States | Disney XD |
| Latin America, Brazil | Boomerang |
Ad blocker interference detected!
Wikia is a free-to-use site that makes money from advertising. We have a modified experience for viewers using ad blockers

Wikia is not accessible if you've made further modifications. Remove the custom ad blocker rule(s) and the page will load as expected.