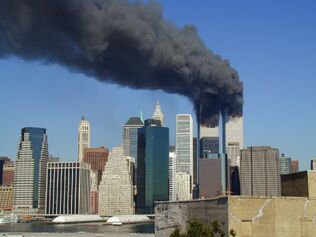 The September 11 attacks (also referred to as September 11, September 11th, or 9/11) were a series of four coordinated terrorist attacks launched by the Islamic terrorist group al-Qaeda upon the United States in New York City and the Washington, D.C. metropolitan area on Tuesday, September 11, 2001.
Chronology:
Edit
8:46am (EST) - First plane hit the North Tower of the World Trade Center. It was initially believed to be an accident of any kind.
9:03am - Second plane hit the South Tower of the World Trade Center causing an explosion in the building's upper floors.
9:29am - President Bush calls the palne crashes as an apparent terrorist attack.
9:32am - As terror grips Manhattan, NYSE closes.
9:37am - Third plane crashed into the Pentagon..
9:45am - White House and Capitol Building was evacuated.
9:46am - FAA grounds all flights. It was the first time in American history that US air traffic is halted.
9:51am - Pentagon updates its akert status to the highest level possible, Delta.
9:59am - South Tiower of the World Trade Center collapsed.
10:06am - Fourth plane crashed into Pennsylvania.
10:15am - A section of the Pentagon collapsed. 
10:22am - State and Justice Departments in Washington, along with the World Bank were evacuated.
10:24am - FAA orders all international flights bound to USA diverted to Canada.
10:28am - North Tower of the World Trade Center collapsed.
5:20pm - Seven hours after the North Tower collapsed, 47 storey building 7 of the WTC complex also collapsed
6:54pm - President Bush returns to the White House
8:30pm - Almost 12 hours after the attacks, President Bush then adressed the nation from the Oval Office.
Television during and after the attacks:
Edit
Many TV networks in the United States and the wiorld broke the news about the attacks. Some of the cable-only networks aired free-tv coverage, some suspended programming and some just continued normal programming instead.
United States:
Edit
These are the networks that broke the news:
CNN
NBC, MSNBC, CNBC
ABC
CBS
Fox, Fox News Channel
The WB, WGN-TV
C-Span, C-Span 2
TBN
TechTV
While here are the cable networks who stopped and continued programming:
| Channel/s | Programming Response |
| --- | --- |
| ESPN, ESPN2, SoapNet | aired the ABC News coverage |
| MTV, VH1, CMT, Nick at Nite, BET, TNN | aired the CBS News coverage |
| TBS, TNT, Shop at Home, CourtTV, CNNfn, CNNfyi, CNNSI, CNN Headline News | aired the CNN coverage |
| Fox Movie Channel, FX, The Health Network, Speedvision, Fox Family, Fox Sports Net | aired the Fox News Channel coverage |
| Home Shopping Network | aired the CBC NewsWorld International coverage |
| TLC | aired the BBC News coverage |
| Food Network, HGTV, DIY, QVC | stopped programming |
| Nickelodeon, Disney Channel, Cartoon Network, Boomerang, Toon Disney, Comedy Central, A&E, The History Channel, Game Show Network, Sci Fi Channel, Bravo | continued programming |
| The WB affiliates | aired the CNN coverage |
| UPN affiliates (majority) | aired the CBS News coverage |
| UPN affiliates (owned by Fox Television Stations Group) | aired the Fox News Channel coverage |
| PAX TV | aired the NBC News coverage |
| Superstation WGN | aired the WPIX-TV coverage |
| Wisconsin Public Television | cancelled all programming and went to all-PBS Kids lineup even in primetime to provide a safe harbor for children from continuous 9/11 news coverage. |
International:
Edit
Many local TV networks worldwide interrupted their normal programming and broght news
| Country | Channel |
| --- | --- |
| Canada | CBC |
| Hong Kong | TVB Jade, TVB Pearl |
| United Kingdom | BBC, ITV, Sky News |
| Germany | ZDF, NTV |
| Sweden | SVT2, SVT24, TV4 |
| Australia | Seven Network, Nine Network, Network Ten, Sky News Australia |
| South Africa | SABC |
| Mexico | TV Azteca |
| Japan | NHK |
| China | CCTV, Phoenix Television |
| Iraq | Iraq Satellite Channel |
| Ireland | RTE One |
| | |
Ad blocker interference detected!
Wikia is a free-to-use site that makes money from advertising. We have a modified experience for viewers using ad blockers

Wikia is not accessible if you've made further modifications. Remove the custom ad blocker rule(s) and the page will load as expected.