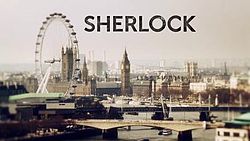 Sherlock is a British television crime drama that presents a contemporary adaptation of Sir Arthur Conan Doyle's Sherlock Holmes detective stories. Created by Steven Moffat and Mark Gatiss, it stars Benedict Cumberbatch as Sherlock Holmes and Martin Freeman as Doctor John Watson. Nine episodes have been produced, the first three of which aired in 2010. Series two aired in 2012, and a third series aired in the first quarter of 2014. The third series has become the UK's most watched drama series since 2001. Sherlock has been sold to over 200 territories.
Sherlock depicts "consulting detective" Holmes, assisting the Metropolitan Police Service, primarily Detective Inspector Greg Lestrade (Rupert Graves), in solving various crimes. Holmes is assisted by his flatmate, Dr John Watson, who has returned from military service in Afghanistan. Although the series depicts a variety of crimes and perpetrators, Holmes' conflict with his archnemesis Jim Moriarty (Andrew Scott) is a recurring feature. Molly Hooper (Louise Brealey), a pathologist at St. Bart's Hospital occasionally assists Holmes in his cases. Other recurring roles include Una Stubbs as Mrs Hudson, Holmes and Watson's landlady; and co-creator Mark Gatiss as Sherlock's brother, Mycroft Holmes.
International Broadcast:
Edit
Country
Channel
United States
PBS
Denmark
DR3
Spain

Antena 3

TV3

TNT

Canal 3XL

Mexico
Proyecto 40
Colombia
Senal Colombia
Australia
Nine Network
Sweden
SVT1
Russia

Channel One

Channel 5

Fox Crime

Germany
Das Erste
Austria
ORF eins
France

France 4

France 2

Switzerland
RTS Un
Quebec
Radio- Canada
Finland
YLE TV1
Italy

Italia 1

Joi

Poland
BBC Entertainment
Norway
NRK
Belgium
VRT
Asia
AXN
Czech Republic

CT

Slovakia
Jednotka
Turkey
CNBC-e
Japan

NHK BS

AXN

Israel

yes

HOT3

Hungary

AXN

M1 HD

TV3

Estonia
ETV
Ad blocker interference detected!
Wikia is a free-to-use site that makes money from advertising. We have a modified experience for viewers using ad blockers

Wikia is not accessible if you've made further modifications. Remove the custom ad blocker rule(s) and the page will load as expected.