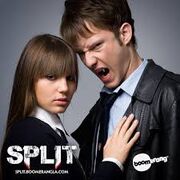 Split (Hatsuya) is an Israeli supernatural drama series. It is directed by Shai Kapon and airs on the HOT VOD Young channel.It is produced by the Dori Media Group through its subsidiary Dori Media Darset (formerly Darset Productions).
It was produced exclusively for the VOD (Video On Demand) service of HOT, Israel's cable platform. This teen daily drama is dealing with one of the most popular trends in the world - vampires. 15-year-old Ella always felt different, but never really understood why. All changes when she discovers that she is part of a magical world and is drawn into the age-old conflict between vampires and humans. This shocking revelation will force her to choose between her love for human Omer and Leo the vampire.
Amit Farkash - Ella Rozen
Yon Tomarkin - Leopold "Leo" Zachs
Yedidia Vital - Omer Teneh
Avi Kornick - Guy Rozen
Maya Sho'ef - Zohar Grin
Idan Ashkenazi - Moshe "Sushi" Arieli
Anna Zaikin - Nurit Nicky Shilon
International Broadcast
Edit
Country
Channel

Israel

HOT VOD Young

Arutz HaYeladim

Latin America

Brazil

Boomerang

Mexico

Boomerang

Once TV

Colombia

Boomerang

Caracol TV

Portugal
SIC K

Philippines
TV5

Russia
Muz-TV

Vietnam
VBC

Italy
Rai Gulp

Poland
iTV

Brazil
SBT

Costa Rica
Teletica

Venezuela
Televen
Ad blocker interference detected!
Wikia is a free-to-use site that makes money from advertising. We have a modified experience for viewers using ad blockers

Wikia is not accessible if you've made further modifications. Remove the custom ad blocker rule(s) and the page will load as expected.