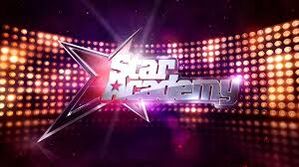 Star Academy is a highly successful television show format based on the Spanish format "Operación Triunfo" produced by Endemol, that has been broadcast in over 50 countries. It is a pop music talent contest with viewer voting and reality show elements.
International Versions
Edit
Networks in bold broadcast their version of the series live.
Country
Title
Channel
Africa
Project Fame

M-Net, DStv

United States: The Africa Channel

Arab Maghreb
Star Academy Maghreb
Nessma TV
Arab World
Star Academy
LBCI, CBC
Argentina
Operación Triunfo

Telefe, DirecTV

Canal 4 (Uruguay)

Belgium
Star Academy
RTL-TVI
2BE
Brazil
FAMA
Rede Globo, SKY
Bulgaria
Star Academy

Nova Television

Nova+, CableTel

Canada
Star Académie
TVA
Chile
Operación Triunfo
Mega
East Africa
Tusker Project Fame

M-Net

Kenya: NTV, Citizen TV

Burundi: RTNB

Tanzania: Channel 10, Star TV

Tusker All-Stars

Tanzania: TBC

Uganda: UBC, WBS, NTV

Rwanda: Rwanda TV

South Sudan: SSTV, Channel 146

France
Star Academy
TF1, NRJ 12
Georgia
ვარსკვლავების აკადემია
Rustavi 2
Germany
Fame Academy
RTL II, Tele 5, MTV2 Pop

Greece

Cyprus

Fame Story
ANT1
India
Fame Gurukul
SET India
Celebrity Fame Gurukul
Italy
Operazione Trionfo
Italia 1
Star Academy
Rai 2
Kazakhstan
Жұлдыздар фабрикасы
TV7
Mexico
Operación Triunfo
Televisa

Moldova

Romania

Fabrica de Staruri

Prime TV

2 Plus

TVR1

Netherlands
Star Maker
Yorin
Star Academy
Peru
Operación Triunfo
America Television
Philippines
Pinoy Dream Academy

ABS-CBN

Studio 23

Pinoy Dream Academy: Little Dreamers
Poland
Fabryka Gwiazd
Polsat
Portugal
Academia de Estrelas
TVI
Academia de Famosos
Operação Triunfo
RTP1
Romania
Star Factory
Prima TV
Russia
Фабрика звёзд
Channel One
Фабрика звёзд. Возвращение

Russia

Ukraine

Фабрика звёзд. Россия-Украина

Channel One

Novyi Kanal

Spain
Operación Triunfo

La 1 TVE

Telecinco

Sweden
Fame Factory
TV3
Turkey
Akademi Türkiye
ATV
Star Akademi Türkiye
Kanal 1
Star Akademi
Star TV
United Kingdom
Fame Academy

BBC One

BBC Three

Comic Relief Does Fame Academy
Fame Academy Bursary
Ukraine

Фабрика зірок

Фабрика Суперфiнал

Novyi Kanal
United States

The One: Making a Music Star

ABC

Canada: CBC Television

Vietnam
Star Academy: Ngôi nhà âm nhạc
HTV
Star Academy Vietnam: Học viện ngôi sao
VTV
West Africa
Project Fame West Africa

Ghana: TV3, Metro TV

Liberia: Clare TV, SKY TV

Nigeria: NTA

Sierra Leone: ABC TV, SLBC

Western Balkans
Операција триумф

Serbia: B92

Croatia: Nova TV

Montenegro: TV In

Bosnia and Herzegovina: FTV/ RTRS

Macedonia: A1 TV
Ad blocker interference detected!
Wikia is a free-to-use site that makes money from advertising. We have a modified experience for viewers using ad blockers

Wikia is not accessible if you've made further modifications. Remove the custom ad blocker rule(s) and the page will load as expected.