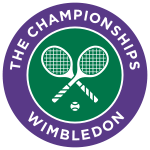 The Championships, Wimbledon, The Wimbledon Championships or simply Wimbledon is the oldest tennis tournament in the world, and widely considered the most prestigious. It has been held at the All England Club in Wimbledon, London, since 1877. It is one of the four Grand Slam tennis tournaments (Majors), the others being the Australian Open, the French Open (Roland Garros) and the US Open. Since the Australian Open shifted to hard court in 1988, Wimbledon is the only Major still played on grass, the game's original surface, which gave the game its original name of "lawn tennis".
The tournament takes place over two weeks in late June and early July, culminating with the Ladies' and Gentlemen's Singles Final, scheduled for the second Saturday and Sunday respectively. Each year five major, junior, and invitational events are held.
The hard court (Plexicushion) Australian Open and clay court French Open precede Wimbledon in the year, and the hard court (DecoTurf) US Open follows. For men, the grass court Queen's Club Championships, also in London, and the Gerry Weber Open in Halle, Germany, serve as warm-up events; for women, the Aegon Classic in Birmingham and two joint events, the Topshelf Open in 's-Hertogenbosch, Netherlands and the Eastbourne International.
Wimbledon traditions include a strict dress code for competitors, the eating of strawberries and cream by the spectators, and Royal patronage. The tournament is also notable for the absence of sponsor advertising around the courts. In 2009, Wimbledon's Centre Court was fitted with a retractable roof to lessen the loss of playing time due to rain.
Broadcasters:
Edit
Country
Broadcast Network
Channel
United Kingdom
BBC

BBC One

BBC Two

United States

ESPN

Tennis Channel

ESPN

Tennis Channel

Ireland

RTE

Teilifis na Gaeilige

RTE Two

TG4

Australia

Nine Entertainment

Seven West Media

Nine Network

Seven Network

7Two

Canada

Bell Media

CBC

TSN

CBC Television

Mexico
Televisa

Canal 5

Televisa Deportes

Norway
NRK
NRK1
New Zealand
TVNZ
TV One
Poland
Polsat
Polsat Sport
Croatia
HRT
HRT
Netherlands
NOS
NOS
Japan
NHK
NHK
China

CCTV

Beijing TV

Guangdong TV

Liaoning TV

QIYI

SMG

Shandong TV

Shenzhen TV

Sohu

Tencent

CCTV- 5

Beijing TV

Guangdong TV

Liaoning TV

QIYI

SMG

Shandong TV

Shenzhen TV Sports Channel

Sohu.com

Tencent

CIS
NTV Plus
NTV Plus

Germany

Austria

Sky Deutschland
Sky Deutschland
Italy
Sky Italia
Sky Italia
Japan
WOWOW
WOWOW
Ad blocker interference detected!
Wikia is a free-to-use site that makes money from advertising. We have a modified experience for viewers using ad blockers

Wikia is not accessible if you've made further modifications. Remove the custom ad blocker rule(s) and the page will load as expected.