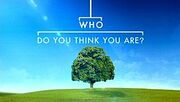 Who Do You Think You Are? is a British genealogy documentary series that has aired on the BBC since 2004. It is made by the production company Wall to Wall. In each episode, a celebrity goes on a journey to trace his or her family tree. Nine series have been broadcast, the most recent currently airing from August – September 2013. The show has regularly attracted an audience of more than 6 million viewers. Ten international adaptations of the show have been produced.
International versions
Edit
Country
Local Title
Network

Australia
Who Do You Think You Are?
SBS One

Canada

Who Do You Think You Are?

CBC Television

Qui êtes-vous?
Radio-Canada 

Czech Republic
Tajemství rodu
ČT1

Denmark
Ved du hvem du er?
DR1

Finland
Kuka olein olet?
YLE TV1

Germany
Das Geheimnis meiner Familie 
Das Erste

Ireland
Who Do You Think You Are?
RTE One

Israel
Mi Ata Hoshev She'ata
Channel 1

Netherlands
Verborden verleden
Nederland 2

Norway
Hvem tror du at du er 
NRK1

Poland
Sekrety rodzinne
TVP1

Portugal
Quem É que Tu Pensas Que És?
RTP1

Russia
Моя родословная
Channel One Russia

South Africa
Who Do You Think You Are?
SABC2

Sweden
Vem tror du att du är?
SVT1

United States
Who Do You Think You Are?

NBC

TLC
Ad blocker interference detected!
Wikia is a free-to-use site that makes money from advertising. We have a modified experience for viewers using ad blockers

Wikia is not accessible if you've made further modifications. Remove the custom ad blocker rule(s) and the page will load as expected.